I've designed several Raspberry Pi based security camera designs over the past year or so. Below is one of my most recent designs.
It consists of the following components:
RaspberryPi B/2/3 (shown)
5MP Makerfocus Raspberry Pi Camera (IR version)
Micro-USB POE Splitter Adapter
3D printed body/brackets
Using a POE adapter means that only a Cat5+ cable is needed to use the camera. That simplifies wiring, especially in hard-to-reach locations (like roof eaves) where security cameras are usually deployed. The POE voltage is injected with a multiport POE injector device in a more appropriate location (a 19in rack in my case).
The camera body was designed in OpenSCAD, my CAD application of choice. You can see example renderings of those below, along with an assembled rendering.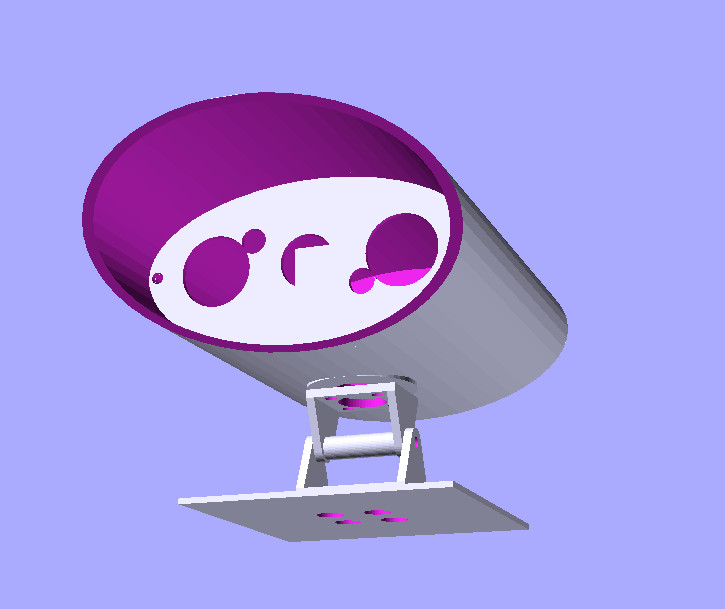 Assembly was straight forward, just mount the Pi and the Camera on their brackets and connect those together.
The brackets then slide into the camera body, along with the POE adapter, and then bolted in. Finally the swivel brackets are added and the base plate is bolted on. The base plate allows the camera to sit on a flat surface (desk, top of a cabinet, etc) or it can be replaced with several other parts as the need arises. For example, I've designed/printed an 'arm' which allows the camera to be mounted on a wall up near the ceiling/roof.